The movement towards marriage equality in the United States has taken on a different tone in the year 2014. The term "marriage equality" itself is a seismic shift from the debate over "same-sex marriage" of only a few years ago, indicating that the question being asked is not one of gender, but one of fairness.The Supreme Court of the United States (SCOTUS) declined the opportunity to address the issue, apparently preferring to let it play itself out socially, and playing out it is.
As of today, it is possible for same-sex couples to obtain a marriage license in 32 out of 50 states, including those places where it was banned by constitutional amendment or voter referendum.* To understand what's been going on in recent weeks,
The Wild Hunt
 decided to talk to Buddha Buck for a fresh voice and "Pagan on the street" perspective.
Buck is effectively a lifelong Pagan, having been reared that way since he was a child in the early 1980s. He's not personally impacted by the question of marriage equality, since, "I have no desire to marry and am not gay, but I have been actively paying attention." For Buck, following important legal struggles is a life-long hobby. Perhaps its because he's a computer programmer; Buck's "paying attention" involves a very close focus on the extreme details and complexities of a given case – including this one.
First, he was quick to point out that the ways this legal environment impacts people is quite nuanced: "I know folks … who have moved so as to be able to get married, who married primarily to get health insurance and other benefits, who live in pro-equality jurisdictions but don't plan on marriage, etc. How each of those react to the developments is more nuanced than, 'have been or are being denied marital rights.'"
For many people, what happened this month was anticlimactic. SCOTUS simply chose not to get involved in the debate. Five states, in which marriage bans had been overturned by federal courts, had those rulings effectively ratified by the decision of SCOTUS not to hear an appeal. Six other states with bans were drawn in by virtue of sharing a federal court district with the affected states. A flurry of legal activity followed and, when the dust finally settled, 32 states allowed same-sex marriage. That number has changed several times and could again soon.
"They took more action than I expected," Buck said of the court. "For each of the 7 cases, their choices were (a) grant cert, (b) deny cert, or (c) hold on to them, doing nothing. I expected (c), a true lack of action. After no case was announced as being granted cert on Friday, I expected them to hold onto all of them, re-listing them for a later conference or generally waiting until a circuit split. I was surprised that all 7 were denied certiorari."
The road to this point has been anything but smooth. A 1996 law, the Defense of Marriage Act, or DOMA, received strong support in Congress as well as the signature of President Bill Clinton. This marriage act protected states and the federal government from being forced to recognize same-sex unions performed in other states where it was legal.
In 2000, Vermont was the first state to grant any sort of legalization for the union of same-sex couples. However, the legislature acted under a court order and called the product civil unions, rather than marriage. In 2004, another court case led Massachusetts to open marriage to same-sex couples. That year also saw protest marriages performed by the mayors of San Francisco, New Paltz, NY and others.
In reaction to the perceived "war on marriage," state legislatures passed a number of laws expressly forbidding gay marriage, indicating a strong backlash to the trend. At the same time, several states either passed laws in support of civil unions or domestic partnerships, or were forced to accept full marriage by the courts. The year 2008 saw intense activity on this front, with actions in two states standing out. On the east coast, New York governor David Paterson signed the first-of-its-kind law to recognize out-of-state same-sex marriages from a state that hadn't legalized them. On the west coast, California's residents voted to amend the commonwealth's constitution to ban same-sex weddings, making it the first state to overturn court-imposed same-sex marriages.
In the following year, Vermont's legislature took a leadership role by passing a same-sex marriage bill and overriding a gubernatorial veto. Other states, largely on the coasts, followed in using the word "marriage" in legislation. But the biggest blow to the fight to preserve so-called "traditional marriage" did not come until June 26, 2013, when SCOTUS hit it with a double whammy. The court invalidated a key provision of DOMA and turned away an appeal on behalf of California's Proposition 8, which had been found unconstitutional by a lower court.
The court's 2013 ruling on DOMA is an area the Buck was quick to clarify, saying, "Not all of DOMA has been struck down, just some of the more important bits. DOMA still says that states don't have to recognize same-sex marriages from other states. Striking down DOMA was an important event legally, and certainly made the subsequent court cases across the country easier to argue. Without it, advancement of marriage equality through the courts would have been much slower (especially as the alternative to saying DOMA is unconstitutional would be saying it is constitutional, and thus making it harder to strike down the bans). More importantly, it got rid of the federal ban on marriage recognition, which for actually married couples was immensely important."
From one perspective, the recent flurry of court rulings seems quick, but in context, the fight has been going on for decades. On the other hand, Buck points to a recent and eye-opening xkcd comic, comparing the acceptance of same-sex marriage to that of interracial marriage: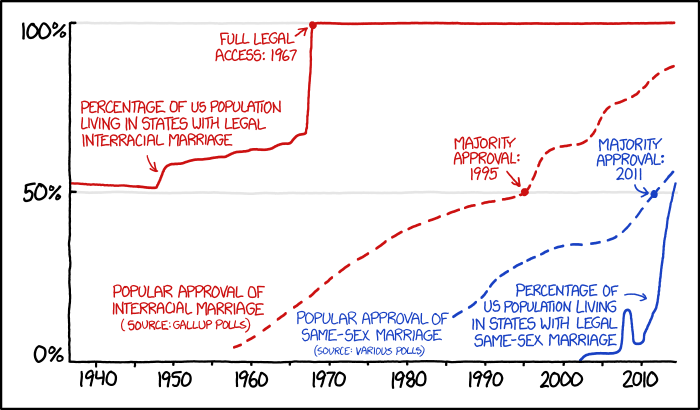 While same-sex marriage seems long overdue, particularly for those who have waiting a lifetime to marry, the trend towards general popular acceptance reached the mainstream in record time when compared to the popular acceptance of interrracial marriage. And this happened despite the deep ideological divisions in this country. Could full nationwide legal acceptance of same-sex marriage now be close-at-hand? Could nationwide acceptance of true marriage equality, across and between any social divisions, be not far behind?
*32 States include: Alaska, Arizona, California, Colorado, Connecticut, Delaware, Hawai'i, Idaho, Illinois, Indiana, Iowa, Maine, Maryland, Massachusetts, Minnesota, Nevada, New Hampshire, New Jersey, New Mexico, New York, North Carolina,Oklahoma, Oregon, Pennsylvania, Rhode Island, Utah, Vermont, Virginia, Washington, West Virginia, Wisconsin and Wyoming (as of Oct 23 2014)